The Minnesota Department of Natural resources thinks so and, frankly, so do we and much much more!
Started in 1991 as an idea from Christine Thomas, Associate Dean and Professor of Resource Management at the University of Wisconsin-Stevens Point College of Natural Resources, as an answer to her own research premise "why more women didn't participate in outdoor activities such as hunting and fishing." She eventually determined that women prefer to learn outdoor skills in a non-competitive atmosphere taught by other women and "Becoming an Outdoors-Woman" (B.O.W.) was born.
In 1994 the Minnesota DNR adopted the program with direction from Roger Holmes with the Division of Wildlife.
Today the program hosts workshops and classes on a myriad topics including fishing, hunting, ATVs, biking, birding, camping cross country skiing and much, much more…
As part of our annual Deer Rifle Sight In Days in 2016 we were honored to have a large gr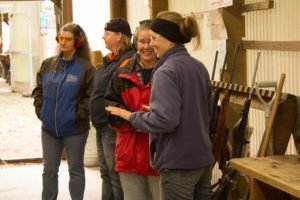 oup from the B.O.W. Program learning how to get their rifles set-up for an upcoming DNR hosted hunt.
If you are interested in learning more about the BOW Program you can read all about it on the MNDNR Website by clicking HERE. For those of you that would like more information on our, Open to the Public, Deer Rifle Sight In Days 2016 click HERE.
Deer Opener 2016 in Minnesota is just around the corner. Be safe out there!